The Uber brand in France was associated to the American tech mantra of move fast & break things. However, people who used the service also knew that the brand is customer obsessed, values feedback, and keeps trying new things to learn and improve. A rich and true territory to tell our brand story, supported by proof points to create engagement.
Campaign insight; Uber is customer obsessed and wants to move forward with you.
Working close with the Uber marketing team in Paris we selected DDB as the agency to bring the campaign creatively to life. At the heart of the campaign was a film by acclaimed director Niclas Larsso, that would take the viewer beyond the obvious surface and focus on what really matters; the journey to better.
The media strategy aimed to get high impact combined with mass reach and frequency. The film was used for high impact. Social media and out of home featured high reach content. These pillars installed the campaign message and provided wide visibility with repetition over time.
creative challenge; Create engagement while keeping a humble, inclusive, and authentic brand tone of voice.
Social media supported the campaign with proof point content. Creating brand engagement while keeping a humble, inclusive and authentic tone of voice. Communicating the campaign message while turning negative perceptions into opportunities to learn how Uber is always working to improve as a service and company.
Owned channels like Uber.com, digital news room and the Uber rider app built out the campaign brand story with facts and context to illustrate how Uber has improved service and responsibilties in the 6 years it has been active in the French market.
Each touch point had to convey the campaign philosophy of being customer obsessed and always improving.
Existing users recieved two waves of communication through CRM. Wave 1 consisted of the written brand manifesto and a link to the campaign film. Wave 2 featured a personalized follow up in which Uber thanked customers and asked actively for input on what to improve .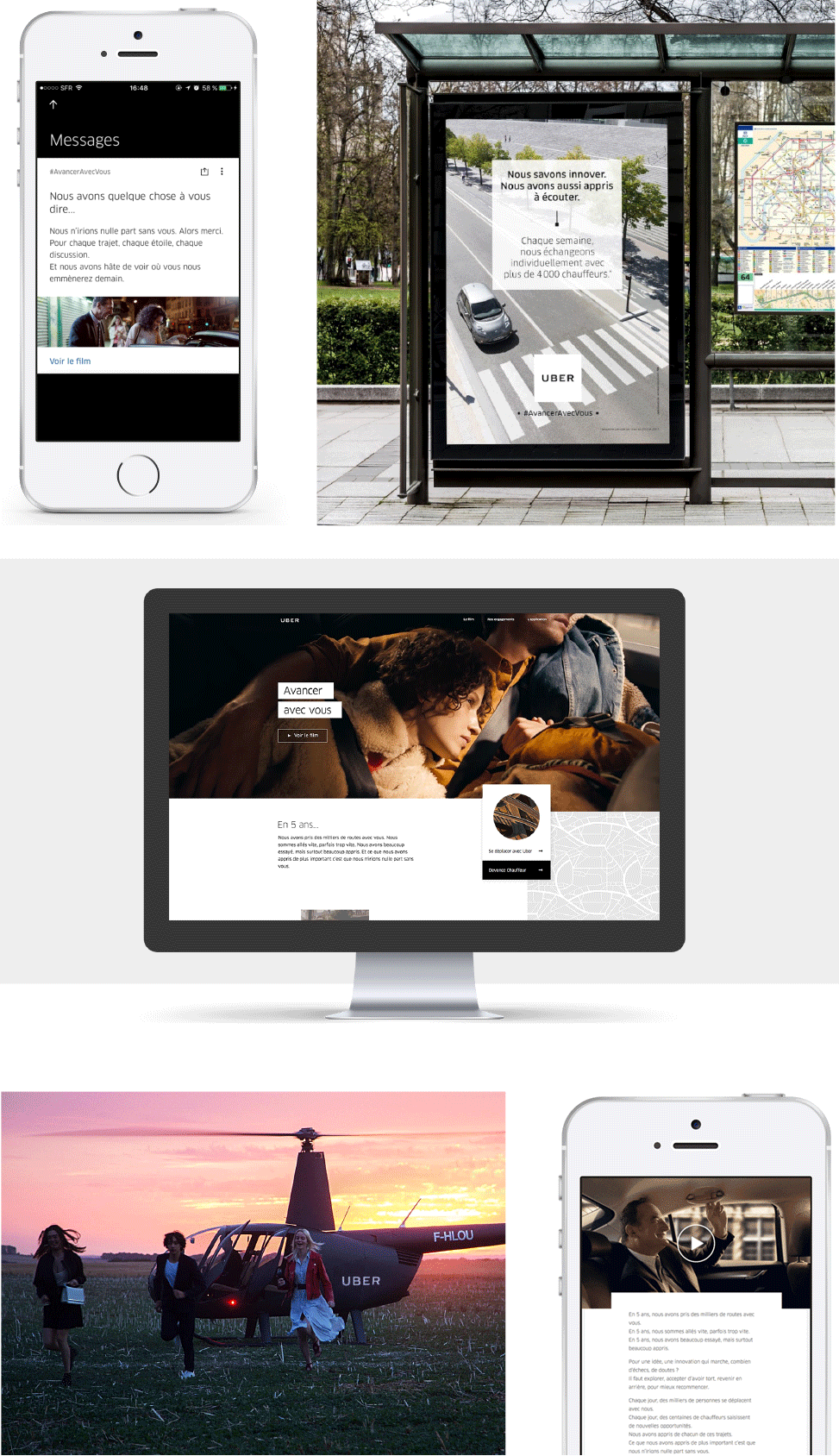 As a result of the campaign people wanted to learn more about the brand; driving high traffic to the campaign website and positive email responses. Going forward Uber needs to keep delivering on proofs points around the proposition of "Avancer Avec Vous". With the intention to establish a true strategic shift, and not a one-shot campaign. Emphasizing the human side of Uber, ultimately creating more sympathy and an emotional connection.
The campaign reached 98% of the target audiences in key cities, providing a platform to learn more about how Uber is customer obsessed, values feedback, and keeps learning to improve